A massive low returning home? No actually quite the opposite. Within a day, I was delighting in the benefit of getting back to a routine of swimming every morning. I found that I started my day with a sense of achievement and determination that is not in the same abundance when I don't exercise. Seeing family and friends was obviously a pleasure, but nothing compares right now to the love and friendship developing with our grandchildren. Coming home via Peak District we had a week with our cutie Primrose who is still happy whenever we talk to her. Theo is three, a little older, whilst initially excited about our travels he soon stopped interacting with us when face timing because he couldn't understand our prolonged absence. We sent little gifts to involve him but the hurt was evident. It was after two weeks of being home, seeing him daily, Theo and I were playing on our own,  at one point he just stopped, got up, hugged me and told me he missed me. We cuddled and went back to the, animals in the castle game, we had concocted. The well-being and love from this tiny interaction was momentous, I was so glad we went with our instincts and came home earlier than planned. Life experience over the last few years has taught me to listen to my intuition, I'm sure I always thought I did, but the difference is, I now implement a well-being first mentality. It isn't always easy, old habits are hard to break, but the rewards are always there and nothing in life beats smiling more, as Theo would tell you if he stopped for long enough!
Another smiler; I had planned to work this morning but I prioritised well being first: If you also love the tracks on The Greatest Showman you will understand why I broke into the regular morning play routine and put the CD on for a dance with 20 month old Primrose, she is with us now, until Saturday, so we all, that's Oma Opa, Mum Dad and Prim started the day giving it all we've got on the dance floor of our lounge carpet, woohoo!
With fun and love in abundance, the planned two weeks at home became more like eight weeks; we waited for baby Hugh to arrive, family came to stay, including our other grandchildren so the house and garden had a party atmosphere. We caught up with everyone and fitted some work in to help fund the next leg of our journey. It felt like a whirlwind and then Hugh made his appearance, bouncing in at 8lb 11 oz and we all got to spend time with our newest family member.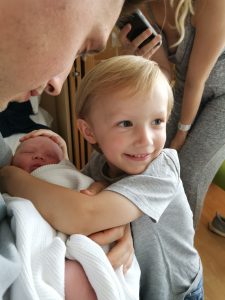 Summer spent no time relaxing after the birth and was up and out quickly, including us, creating new experiences for Theo with his new little brother, energy is in abundance in that household! The diary started filling up with commitments so we finished up our work and hit the trail again this time heading for a little weekend break in Liverpool first, almost where we left off, we were so glad we did…
Liverpool:
Having met some lovely Liverpudlians on a cruise once, but never having been to Liverpool, they were our only reference: Lively, funny and kind hearted, which is exactly what we found the city to be. Walking through the different quarters you get a real sense of what Liverpool is made up of and how the City is moving forward with its modern architecture, creative drive and friendly people.
We stayed in Maghull on an old farm, just a twenty-minute train ride into Liverpool Central. (lots of old farms allow Motorhomes and Caravans to park up as they have the space, or are still a working farm, in need of an extra revenue stream) The return fair and travel pass for all trains, busses and the ferry, was an unbelievable £6. We travelled in everyday and made the most of this bargain.
Naturally we got our steps in, seeing the sites, but also enjoyed a ferry ride, across the Mersey, I can hear you singing… where we got off to visit a wartime U Boat that had been salvaged so well it is now a tourist attraction. If you like history its well worth a visit.
The Ferry speaker system gives you a running commentary on the buildings you pass and their history and the U boat visit was another cheapy, so a thrifty enjoyable day. We couldn't visit without drinking and listening to live music in the famous Cavern Club area where the Beatles and Cilla black made their name. As well as enjoying a comedy club night with many comedians giving us a broad view of the lovely scouse sense of humour. If you haven't visited Liverpool, we would recommend you do.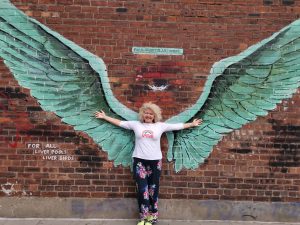 Birchbank Farm: Chester
We hopped from there over to another farm, this time in Chester, where we had the privilege of a visit from our son and granddaughter. Of course, that's why I choose the farm, with the old farm dog and family of cows on site making the visit memorable. It also gave me lovely views for morning watercolour practise and meditation, ignoring the odd "Mooo" when the farmer was late with the grass!
Breaking away from cows' milk, at home I use Oatley milk for tea, whilst travelling it's been more difficult to find.  Talking to the farmer I found out that although his cows graze on grass as families, the larger cow herds on farms surrounding him, don't see the grass at all, it is brought to them by machinery which we both felt sad about. It raises questions for me about the, sustainable dairy, debate?
Back to being tourists, we visited Chester Zoo which lived up to the great reviews and the following day the Aquarium, another brilliant day out. Primrose had already fixed the shark song into our heads with every interaction but now she has seen them, her favourite word is "Shark", repeated many times like you do when you are nearly two!
Dinas Farm Bangor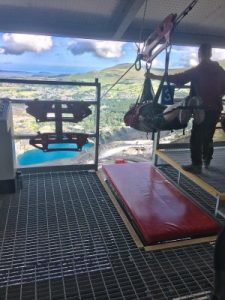 Nathan and Primrose left, and we moved on into North Wales where we were only a half hour bike ride to Zip World. Fun for everyone awaits at various Zip World venues, with trampoline adventures in giant underground caves, tree walks and Zip wires both under and over ground. We opted for the one sold as the fastest Zip line in the world and longest in Europe. We had tried to do this a couple of years ago but the weather wasn't on our side then. On this day, it was Paul's birthday and the sun shone, we biked our way there through the spectacular slate quarry's of Penrhyn, revelling in the atmosphere of the old mines. My phone battery had run out so I was desperately taking mental pictures committing the beautiful ruggedness to memory for my palette knife that was calling.
As for the Zip line adventure, we enjoyed it but realised we had experienced much scarier escapades. I don't want to take anything away from the day for those of you thinking of taking this ride, it's even great to watch from the café.
The town of Bangor we had visited before, it is still full of charity shops and supermarket chains, and this year, wasps, lots of them! The scenic Betws-y-Coed is not far by car if you are in the area and well worth the visit.
Dinas Farm, was right on the edge of River Ogwen,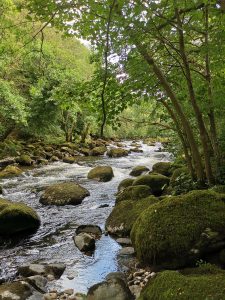 where the changeable weather continued. Beautiful sunshine warranting shorts, turning to torrential rain needing waterproof clothing from head to foot. The rain and floods of neighbouring counties had swelled the river so it rushed past at a deafening pace. In addition, the rain pummelled the roof of the Beast so much, it often took some time to get any sleep!
After this farm we had a few nights wild parking, including in a pub car park.  There are many pubs that allow you overnight parking for free, naturally expecting your patronage which usually includes a Sunday Roast for Paul!
Barmouth Seaside Resort: Gwynedd NW Wales
The rain did stop us from visiting some waterfalls and walks around Snowden but it could have been so much worse as it was for some this year, with landslides and floods. So, we counted ourselves lucky and made our way to Aberystwyth with a laundry stop on the way. (Farms don't have washing machines at the camper's disposal).
The search for a Launderette found us in Barmouth.
As if the weather knew we had lots of washing to dry, the sun also met us there.  What an absolute delight this town is with an array of independent shops, art gallery in the old church hall and coffee shops and pubs galore. You are torn between time spent on the golden sands of the expansive and interesting beach and sand dunes and the quaintness of the towns charm. We didn't have time for other local attractions recommended to us, but this is one place we would be happy to revisit. We made more arty friends and ate in The Last Post pub, food was lovely lots of veggie or vegan options. Sad that we couldn't stay for the music the following night.
Aberystwyth: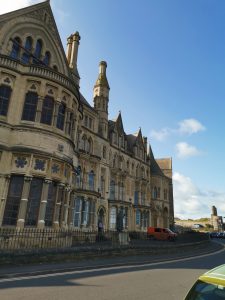 We looked forward to meeting friends in Aberystwyth as well as discovering the delights of Ceredigan Bay which didn't disappoint. What appears to be a small town does stretch out pleasingly around the old Castle and Harbour. Education, History and Victorian charm is in abundance here. The beach is a contradiction: at the harbour, the beach is made up of tactile smooth stones that look like they belong down the centre of your back for a massage. Thousands of beautiful smooth curved grey stones as far as you can see.
Followed around the bay, by rugged slate jutting out of the sand like a scene out of a Terminator or End of world, type film. Harsh unforgiving, ready to rip and tear whatever visits, in the water to dense to see through.
Continuing the walk around the castle and sea front, brings you to the screeches of children playing on the dark grey beach made up of fine stones and dark sand.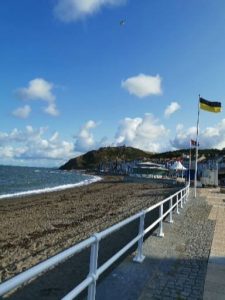 It reminded me of the beautiful surprise we found in Scotland, with the beach made up purely of cockle shells.
However, you could be like us, and looking for things to do in the rain: The town museum has been created out of a beautiful Edwardian theatre, where you could shut your eyes and feel the drama unfold on the stage the audience was so close to.
A steam train ride takes you on a scenic trip, up the side of step hills! to the water falls at Devils Bridge. The pub food is lovely by the way, as is the tea and cake of the station coffee shop! Best get walking…!
Lastly the Victorian Obscura lens at the top of a steep tram type ride was an interesting visit in any weather, designed for Victorian entertainment, it looked to me like early voyeurism!  It cleverly magnifies with mirrors the live scenes on the beach and surrounding area of 1000 miles or more. We were lucky, the sun appeared and worked hard all afternoon to set the scene of modern-day beach fun 2019 style.
We have known our visiting friends for almost twenty years and found much to celebrate: a recent successful heart op, two birthdays and many holiday memories. It reminded us that life is sweet and our treasures are all around us.
Heading south, to see what else is in store…?