Why buy Art?
Mankind has been adorning walls since the beginning of time with cave drawings, carvings and trinkets. We have a need to reflect, be comforted, intrigued and depict a moment in time.
There are so many reasons to buy art;
as an investment; a treasured memory; a statement piece; a talking point; a personalised gift; to collect a series; a needed colour pop for the room; to support small businesses, the list goes on, but at the bottom of all of this is an emotion, Art moves us.
Is it a record collection with fantastic LP covers that makes you smile? a sculpture that you see something new in every time you gaze at it; perhaps its something tactile like wood metal or cloth that makes you want to run your fingers over it when contemplating, almost meditative for you. Perhaps its abstract art that makes you tilt your head a different way with every view; a painting that is statement of your values, like animal conservation, or perhaps a political mood. A brilliance of colour or movement that energises, and inspires you. Then there is art that has a direct line to your heart, evoking memories of love or loss that ultimately comforts you.
If you look around your home or work place at the artwork surrounding you how does each one speak to you, I would love to know? Where I sit in my office writing this, I can see a poem on the wall given to me by one of my oldest friends. I touched me so deeply at the time that I framed it and hung it up in my hall. Whilst I don't read it every day the sentiment caresses me every time I pass it. Downstairs we have a metal sign that says "always look on the bright side of life". We were in Vegas of all places when we found this, in Peggy Sues diner and shop! It immediately reminded us of Paul's Dad loving to sing that song, so we bought it and he and that catchy tune is here with us. Had we put obstacles in the way like, we will be taking too much home, don't want to carry it etc our home would be poorer for it. We have a large painting from the artists quarter in Paris which was a job to carry, however that's forgotten and what's left are the lovely memories of our trip and with its abundance of colours, it works for all seasons in our home.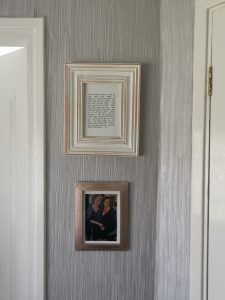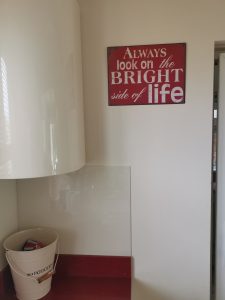 Art tells a story of our lives just like photographs do. As a result, your home envelops you, becomes your safe place; it speaks to your soul on a daily basis whilst you go about your business. Its your sanctuary that welcomes and understands you. It lifts your mood, it consoles you.
If you have walked around your home looking at your treasures it may spur you on to refresh your rooms, move items, re-frame, repair or replace something you have been meaning to do. I guarantee you will feel better for it.
If you have looked around you and wondered why you don't have anything like what I have described, I would highly recommend you open yourself up to visiting galleries; street markets; boot fairs or auctions and  buy what you are drawn to, if you walk away and keep thinking about a work of art, whatever it is, then it is calling you and at this point in time you need it, whether its for comfort or inspiration, let it share your space. Of course, online art is easier to visit during this Covid year. Not just online shops, but you can find unique work from artists local to you and your area like the Open Studios that happens all over the UK and www.urbanart.co.uk that is normally outside but now online, they showcase such variety there is something for everyone.
I would love to hear your thoughts on this and see your photos. You can comment here or on my Facebook Art page just click on a link on this site.
What story does your art tell about you?
Top bike painting is from a street artist in Amsterdam, again fond memories.
Underneath is a clever multimedia design from an artist in Hythe Kent. www.nikkigriffithart.co.uk  It's of London, where I come from, so nice memories interwoven with print, material and paint.
Lastly, Yes, I love him enough to give him my last Rolo. You have to be of a certain age to remember that one!