On arrival at our next stop we kept looking upwards towards the vastness of the huge sky . We heard  a loud call and were treated to the antics and sounds of a pair of Buzzards as well as Red Kites claiming ownership of their blue world. Catching the thermal airwaves (with their broad wings of nearly two metres) just coasting effortlessly, they were conserving energy whilst searching for prey, wonderful to watch. Once set up we could still hear the eerie call of the buzzards and all I could think about was Western Movies! It is mid-August and we are hooked up at
Pantmawr Farm
; this site is in a picturesque valley with a quiet stream for children the splash around in, as well as  having horses to ride. With the odd sheep and livery stables at the top of the hill too, it is a beautiful setting.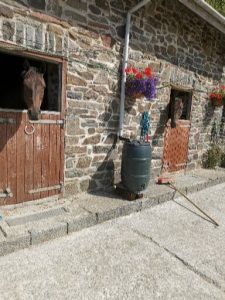 A couple more nights here and we will move on inland where another little love fix awaits us, with a visit from our daughter Summer and her two little boys, we cant wait.
The changeable weather delivered enough sun for me to paint outside with watercolour. Too much heat for acrylics, but I have learnt to adapt and quite literally, go with the flow! When the weather is bad, I take over the inside of the Beast, table sink etc. and paint there. Poor Paul is hemmed in!
Good news and opportunities have been following my art travels on this trip; After sending examples of my work, I was accepted into the Doncaster Art Fair, happening at the end of September: A gallery in Buxton Derbyshire started a dialogue with me after framing one of my prints for their customer. Now the gallery has a couple of original artworks and a number of prints being shown in, The Gallery in a Shed. I will be visiting next month, apparently you can enjoy a lovely coffee and cake as well as wonderful artwork there.  In addition, a few paintings sold as soon as I put them on Social Media so I am moving in the right direction. Think I might have celebrated with a Cider, but once home, the big canvases will come back out and the champagne will be put on ice, hopefully popped soon!
As we wound our way through the valleys of Wales, although we had achieved a lot in our time there, we hadn't managed to explore the Pembrokeshire coastline or been able to catch up with friends in the area. So apart from the inviting curves of the land; walks into the forests unknown; waterfalls that can take you off to meditate a land of plenty, there are many other reasons to revisit Wales.
The New Forest
Knowing we would be seeing Theo; I found another Farm to stay at: Paddock View (Camping & Caravan Club) just off of the A31 in the New Forest. Google said it would take just over four hours to get there but we have learnt to add a couple of hours when in the motorhome and we were right to, we left just before 6am and arrived at noon. Good roads and the sun shone, plus we were on our way to see our babies, so all was good in the world.
You may well ask, why the New Forest from Wales when our plan was to travel the coastline? We had come to the conclusion that we didn't want to fight our way around the tight roads of Devon and Cornwall in The Beast especially being the height of the summer, so when our daughter said she would come and join us we opted for somewhere that wasn't going to be an arduous journey for her with two little ones in the car.
We have been to the New Forest before but enjoyed it differently this time. Perhaps seeing it through the eyes of a three-year-old helps. We woke up to the sounds of Sheep, Alpacas and Pigs in the fields around us, when Theo woke up, he looked out of the window to check the animals were awake, because then he could be too! A short trip in the car found us surrounded by Donkeys and Ponies.  Horses, Cows and Pigs also joined us on our journey through the beautiful Forest sprinkled with old pubs full of stories and atmosphere.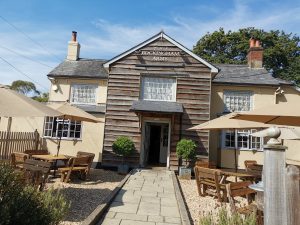 It was William the Conqueror who set aside the New Forest over 900 years ago and it is said, he would probably recognise much of it today. Probably not the red phone boxes with all the books inside!
This area is now a National Park that harbours not only an array of animals but a diversity of rare plants and wildlife. By grazing freely, the animals are the architects of the land, alongside the people managing it and commoners, as they are known, who actually own the roaming livestock.
Change of direction
We had planned to explore for another month but as we all know life throws us curve balls occasionally, which means the norm can change and we adapt again. We had news that someone close to us was seriously ill in hospital, so we made arrangements to go home. Our priorities changed, things that are important or urgent have far less potency when you realise time is limited. We were brought back to the bare bones of humanity; LOVE.
Sitting in the field with the Alpaca's on a beautiful bright sunny day, Paul and I grieved for what was to come and became thankful for this person's indelible print on our lives. Through our sadness we are finding joy in the memories she left us with. Seeing others suffer the pain of such a loss is hard, as I'm sure some of you have experienced. Adults/ parents are pre conditioned to ease the pain of those around you, especially our young. However, bereavement is a personal journey, so, we support where we can and offer our love in abundance.
I have a list of artwork to be completed now home, but also a new painting to begin: Lions were our friends favourite animal, so with her brave spirit in mind, I will create my first lion artwork dedicated to her memory and explore how I can raise funds through the sale of the original and prints in order to donate to the cancer charity. I'll keep you posted.
Our travels haven't stopped, they are merely paused. Our experiences and events along the way have endorsed our resolve, to continue on this path whenever we can, to live the life we have, differently from our well-trodden history. Filled with days of new experiences; wonder; and a cacophony of emotions that regularly surprise and remind us, of how lucky we are.
With Love until next month…