After the relaxing sun of Corfu in October, and a month at home in November, travel was on the cards again for the last month of the year, December:
First stop, Derbyshire, a whole family visit to our son and granddaughter included; torrential rain in Glossop, merriment in more water in Manchester and then the mystical beauty of mist dangling over the hills of the Peak District…but no snow.
Art wherever you go.
With the young ones kitted out in snow boots and warm coats we were ready for the fun that wonderful white stuff brings, after all, it was December. Instead, the heavens delivered rain, so hard and fast, towns in England were flooded and people's lives in disarray once again, all just before a time of merriment should begin. With a collective, fighting and caring spirit people find in adversity, those suffering endure, but our weather it is no longer the comedy of English BBQ's cooking under umbrellas, its hurtful and life altering. I am thankful for Greta Thunberg's voice; we all have a responsibility to act now and insist our governments do too.
Growing up with regular visits to relatives in Germany I was fortunate: Summer was spent bathed in the warmth at the beach huts and jumping in and out of the waves at Travemunde beach, North Germany.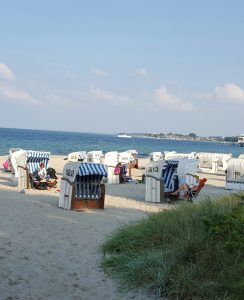 Travemunde Beach in the summer with those brilliant beach huts that have hidden draws and storage
.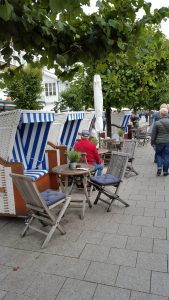 Now the huts are cool enough to sit in and have a coffee.
Winters were spent in the beautiful crispness of deep snow with my Omi (grandmother) who lived in the centre of the delicious marzipan town of Lubeck, about an hour from Hamburg. The weather was predictable; Once an adult, I wished every year, like a lot of us do in England, for snow over Christmas. Many people place a bet for just that one snow flake on Christmas day that most years, eludes us.
We all know about and have experienced our changing climate and whilst one side of my brain is busy working on what we should do for our planet; recycle efficiently; eat differently; use less water and fuel in every way, the other side is romantic. It longs for my childhood days, when weather and food made sense, it was all seasonal. I dearly wish its return for my grandchildren, so although that's a tall order, Rock on Greta!
A beautiful icy, winters day at the beach, loving the light.
Properties, up north!
There was another reason to visit Derbyshire, recently our son encouraged me back into a world I had left behind, the property market. He is keen to secure a future for his family, one in which he is financially free, meaning by the time he is pushing forty he is not reliant on a salary dictating his life's outcome.
Impressed by his vision and having been brought back to the truth of our financial retirement forecast that I had been pleasantly ignoring in my new creative life, I decided to partner him in this endeavour.
Once the rest of the family had departed back home Nathan and I spent every day of the following week researching the property market. (in between meal, bath and bed time with 2 yr old Primrose) We investigated different areas for their price; rental viability; proximity to amenities and travel networks as well as the expected capital growth or instant return on investment. It was fun, not just using another side of my brain again, but spending quality time alone with my son, now a grown man, with his own drive, morals and values shining brightly. (Typical mother thing to say I know!)
By the end of the week we were happy to be able to say we had found a great deal and better still, secured the property. We celebrated with a cup of tea and an afternoon nap! Yes sleep! Getting up with Prim's sun clock at six a.m. most days and working like we did had taken its toll but what a great week. The first of more to come in 2020.
What about your art I hear you cry? I have discovered that to generate an income from Art is a matter of patience and growth. Whilst a creative life is my love and ambition, Nathan rekindled my passion for property, which tapped right into the fear element, of finance and retirement! The thing is, I don't want to stop being inspired by unusual animals, people and places and to do so requires funds for my love of travelling. So along side my Art business we will allocate time throughout the year to source and secure deals for ourselves and others interested in investing.
Manchester Christmas Markets
Art in unexpected places, Manchester
Traditional Christmas?
Back home was all prep for a big family Christmas, one where father Christmas attends to give out the presents and listen to the dulcet tones of the adults, meant to be the children, singing Christmas carols for him. Our Christmas has enjoyed a new lease of life with the advent of our little people. The magic and wonder return and beg to be celebrated and so we did. Paul has been married before and in the last couple of years we have had the pleasure of getting to know his adult children and their families. Sad that they have missed out on what our children experienced growing up we now recreate Christmas Eve as we always did. We are very grateful not just to have our memories but now to make these very special new ones.
OK he is a little big now but he gets the gist of it!
Food was more challenging this year as I really didn't want to actively purchase and cook Turkey and Ham for our traditional German/English style buffet. Our daughters partner kindly sourced organically farmed produce and also cooked it, so the immediate dilemma was averted. However, the small changes in me and my life means more is inevitable, so next year we have already booked fourteen of us all into a beautiful Kentish pub for our sit-down meal together. We will still be back in time for Santa!
Germany
Family, food artistry and Architecture, whats not to like?
I think history becomes more important as we age, our own history as well as that of the world around us. With just a handful of relatives left  in Germany now. we try and see them every couple of years. New Year is always fun because we can catch the tail end of the Christmas markets, plus they do crazy things with fireworks on New Year Eve.
Cars dodge boxes of fireworks placed in the road for everyone's enjoyment. Neighbours stand outside their front doors either watching the display that creates so much smoke at times I imagine that's what a war zone looks like. Or they are taking part by setting them down just feet away in the road. Whilst the sky is being colourfully lit, cars cleverly miss the ignited boxes of explosives dancing the spectacular! as well as the chap walking down the street nonchalantly setting bangers off as he goes! The price of Fireworks are comparable to England so, not cheap, but this show right on our doorstep goes on for hours.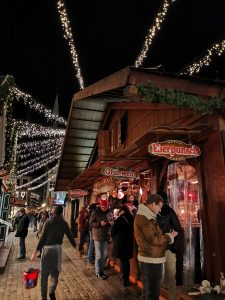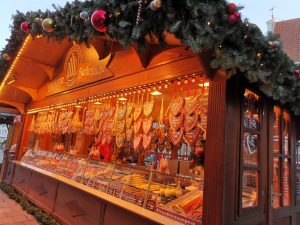 Lubeck Christmas Market
Presentation is everything.
English is a second language for many and my relatives are no exception. I was the third child so by the time I came along trying to frame a sentence in German, older members of my family were asking me to say it slowly in English! However, my understanding is not bad and by the time we leave my brain is working the sentences out in German but then they answer in English! Every time we return, I'm certain I will become fluent for the next visit, it's such a good skill. One day I will surprise them…
Walking; games and laughter are the order of the day every day, oh of course along with schnapps Glühwein, all other alcohol plus too much food and Marzipan. (Dry January started a little late this year) I could wax lyrical about the warmth and love found in Germany but I feel it is just as important to talk about Marzipan… not just any Marzipan. (I am so sorry if you have a nut allergy because this is a food not to be missed)
Niederegger Marzipan:
So much history and Art in Marzipan from the ingredients to the designs.
My Mums home town has a rich trading history, William Wallace was quick to write to Lubeck after a successful battle to say that Scotland was open to trade with Germany, but without digressing further, Lubeck is now well known for Niederegger Marzipan.
 Lubeck's Holstentor, is now a Museum, formally a City Gate marking the western boundary of the old centre. Built in 1464 it is one of two remaining medieval fortification gates around the city. Other Holsten gates date back much further as there was at one point no less than four Holsten gates to pass through!  With the others destroyed, this one survived and was restored with pride and adopted by many German companies in their trademarks including Niederegger Marzipan. It has been a UNESCO World Heritage Site since 1987 and in my heart forever.
Founded by Johann Georg Niederegger in 1700's, his Marzipan was held in such high regard and value it was at times. worth more than gold. It was given to Kings and Czars as gifts and as a result has long been world renown. However, it took until the nineteenth century before the likes of you and I were able to enjoy its delicate delights.
The original Marzipan factory is still prolific in its inventiveness. When small, I loved to receive small animals and fruit perfectly carved out of marzipan, with an attention to detail that's mesmerising. These treats are still available in the Niederegger store in the heart of the town, just opposite the town hall. Take your time visiting as there is much to discover in this sweet world. The ground floor will test your healthy living resolve, (almonds are good for you!) with its array of delectables you could spend a fortune on gifts and memorabilia, all made out of marzipan of course.
 Fruit and The Holstentor made out of Marzipan.
On the first floor is the café that always transports me to the splendour of an old-fashioned hotel like The Ritz in London. The waitress service, the décor, and rich smells of coffee and beautiful gateau's makes me feel so decadent I can't stop smiling when I'm there and secretly want to swing my legs under the chair, you know, that kind of happy.
The second floor takes you on a free journey of discovery: A visitor's museum, that charts the oriental origins and secret recipes brought back by the crusaders to the Hanseatic City of Lubeck. So much made out of marzipan, including the twelve life size marzipan figures! It is worth a visit.
Have I made you hungry yet? Or are you thinking, that you have tried marzipan and wasn't keen? I urge you to dispense with all other versions and try this the ultimate Niederegger Marzipan, It can now be found in large stores here. If you visit Lubeck and venture into this tasty universe, I would recommend the famous and very delicious, marzipan nut cake, I can taste it now as I write this, so pleased its along way away from me!
Armed with German Mustard, Marzipan and magic memories the one-and-a-half-hour flight home from Hamburg shot by.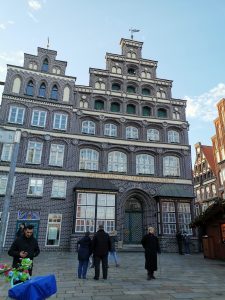 I just love to photograph architecture, but struggle to paint buildings or straight lines!
You can always rely on a church for stunning artworks.
Lovely Luneberg, about an hour away from Lubeck.
I hope December/New Year was special in some way for you too, it would be lovely to hear, meanwhile what to do about 2020, let's talk about that next time…