Music of the Mountains…
We are heading into our fourth week of travel and it really does feel like a road trip with more time on the road than painting, walking cycling or anything else. It's a tricky balance to strike, where to stop and for how long. Paul and I luckily love a road trip, some of the mountain ranges reminded us of driving to Vegas, it was only for a moment, Scotland is far prettier, but they were also fun memories made.
I'm writing this blog drinking a yogi tea from the shop at Gairloch; Buddha by the Sea (Womans Balance, thumbs up) Looking out over rugged hills that are cloaked in a raincoat of clouds filling up the Loch below and I'm deciding what recipe to go for out of Buddha bowls, grain+ green +protein book, a new addition, along with Tree spotters Guide, get me!  I call it relaxed learning, it happens when life is simplified; we can focus on simple but essential pleasures to "feed the well," as artist say. Nourishing the soul with life's bounty in all ways.
Regretfully we left Gairloch, we continued West and we can confirm the scenery continues to excite the senses. So many photographs on my phone are now framed by the Beasts interior as I shoot whilst travelling. Its addictive; the light changes and so does the picture in front of you. You spot sheep standing perpendicular to the mountain and wonder how they do it, take a shot, add to the picture lambs frolicking, cows and their calf's feeding, a few more shots.
The Landscape too has filled my phone with its lively charm. In the Beast out in the open, the shhh of the North Sea, the trickle of the waterfalls or the stillness of the lochs lull you to sleep, only to be woken by the array of bird song championing a new day, and this makes me feel very grateful, not only for our new day but the extra storage space on my phone!
Whilst driving in the never-ending indulgence of the landscape, we can almost feel the rocks waiting to rain down their giant jagged boulders in front of us, just waiting to reclaim the road channelled through them, or we look over to the eerie but beautiful lochs, silently weaving into the hillside showing us the way. Let's not underestimate the sky that also commands our attention; with the changeable weather, the clouds make designs on the sky that so many artists endeavour to emulate with their individual styles that I don't tire of seeing. A dance of mist across the mountains and you can almost hear the Gaelic laments of times gone by and lost loves. Suddenly a crash of grey cloud storms across the brightest of blue skies creating atmosphere and mood. Interlaced with the clouds are the stars of the show, an aerial display of birds of prey hovering or steeling food from another bird mid-flight. It's a movie we watch most often in silence, interrupted only by our eagerness to engage in the wonder.
We drive for the most part without music, the silence is self-imposed, we don't put the radio on because the Beast sounds like a bus inside and the view really is best enjoyed without extra barracking.  Having said that, music is a natural desire, that one evening did have me looking for the CD's we had brought with us, except we forgot them and found just one; NOW that's what I call a party 2018. How that found its way in here I don't know but it's always fun reviving old tunes with a chance for a boogie! … "Came here for love"…The Greatest Showman pretended to accompany us but the case was empty, which is a crime, as we would have played that on repeat for six months!
Inspiring music poetry dance and creativity of all genres, you can see how the people and landscape enjoy and respect each other, we spoke to some fishermen recently looking experienced and weathered, I'm sure you can picture them, who said they never take their scenery for granted, they know how lucky they are. I went to find some enchanting music yesterday and found humour in the likes of The Red Hot Chilli Pipers! We ended up playing Michael Flatley's Celtic Dream music on repeat through Paul's phone! More Oil we discovered helped quiet the engine so I look forward to checking out the charity shops and finding more CD's!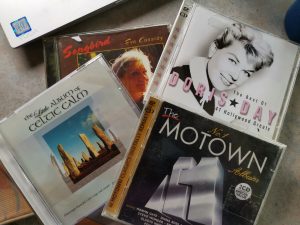 There is artistry in food here too, we had a lovely lunch in Sheildag, (creamy fish chowder) hidden in a charming village that sweeps around the bay of the Loch, listening to Eva Cassidy in the background slowing the pace down.
The drinking laws are much tighter here than in England which means Paul can't enjoy a pint of Guinness as he was, but it doesn't stop him later in the day. A Dutch family had overloaded on Guinness and were going home so asked Paul to take them off their hands, which he kindly obliged.
Another great find was The Old Inn at Carbost on the Isle of Skye, I'm jumping forward here but this find was so unexpected. We stopped at a CL site. (Certified Location Sites just have the basics, electric hook up and water, no frills and this place didn't even look nice in this setting!) The chap said there was a shop and pub about a mile walk away so we braved the hail storm and went for supplies. They were of course mega expensive because this is the only shop stuck in the middle of nowhere, but whilst there, we confirmed that the Pub was just a little further on and the shopkeeper told us we wouldn't want to leave, "it's the best pub on Skye" Yeah right, we thought there are no signs, no anything to suggest anything happens here. We walked into a warm-hearted, busy, internationally filled pub where people of all denominations just kept coming. To top the atmosphere, the food was delicious and service friendly. So many gems tucked away.
Before heading to Skye we wild park on Loch Marie, said to be the prettiest Loch in Scotland where we skimmed stones and walked around Beinn Eighe looking for eagles.
Skye initially was like the East side of Scotland, brown hills and moorland as we headed up to Portree the main town, but as we followed the Art trail around the coast the hills and mountains seem to double and treble in number and size and became more scenic. We wild parked at Staffin Beach, checking the tide wouldn't reach us
and the next night Carbost CL site, mentioned earlier. We met friends in Portree on our last day, and after relaxing in the Beast together, convinced them to buy a motorhome! We missed out on the bottom part of Skye and Fairy Pools, said to be magical, but we wanted to get a move on,  back to the mainland and out of the wind. Ironically, we found ourselves up a mountain on the Ben Nevis range, where it was windy and snowing!
There is so much to do at the Ben Nevis Range, we thought it a great location for an active family holiday. Fort William is on the doorstep and the largest town we have seen for ages, so lots of boxes ticked.
Our zest for painting, people and a party has us staying at The Ben Nevis motorhome camp site for a few days, where we have made new friends and planned a night with music in the local pub! (More photos on fb art page)